In the charming town of Olds, Alberta, there's a culinary gem that has been delighting locals and visitors alike. Blue Grill Restaurant, owned by the talented chef Chathura, offers a unique dining experience that showcases his extensive culinary background and passion for creating exceptional dishes. In this blog, we dive into the story behind Blue Grill and explore the advantages of Olds as a thriving community.
The Journey of Chef Chathura: Chathura's culinary journey began in his home country of Sri Lanka, where he attended culinary school and honed his skills for three and a half years. From there, he embarked on a global adventure, working in prestigious five-star hotels in Dubai, the UK, Bermuda, and beyond. With experience in renowned establishments and even Michelin-starred restaurants, Chathura's expertise shines through in his culinary creations at Blue Grill.
Choosing Olds: When it came time for Chathura to establish his own restaurant, he chose Olds for its unique advantages. Having spent time working with an esteemed colleague in Sundre, at a well-known local establishment, Chathura didn't want to open a competing restaurant nearby. He found the perfect opportunity in Olds when he came across the closed Blue Grill location. Recognizing its potential, he decided to revive the restaurant and bring his culinary vision to this welcoming community.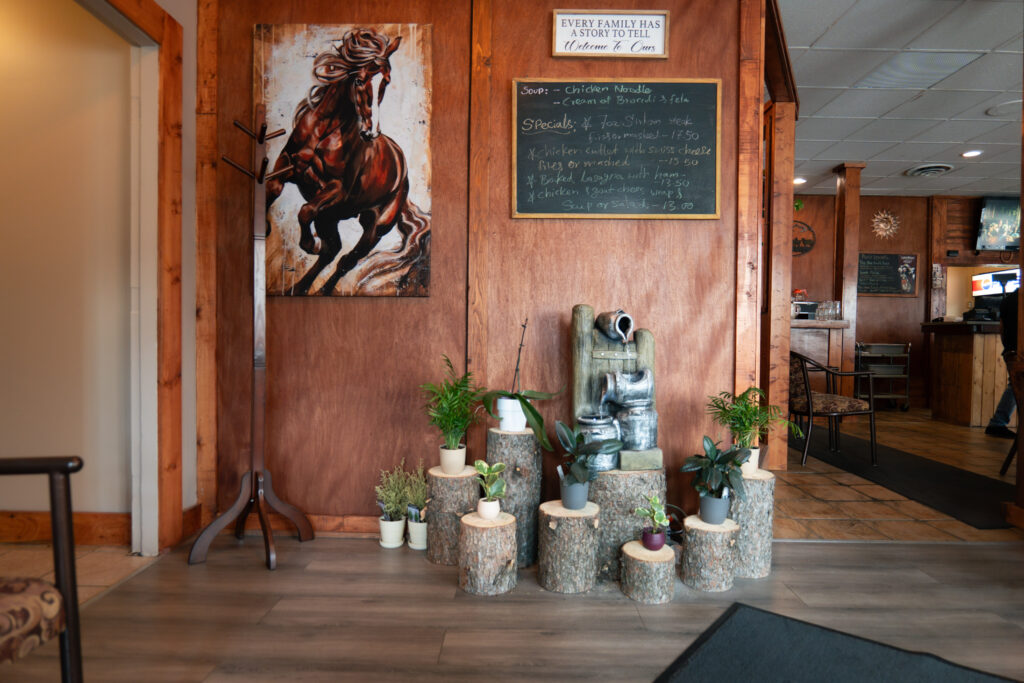 The Blue Grill Experience: Blue Grill is a haven for food lovers seeking an exquisite dining experience. The restaurant offers a diverse menu that combines flavors from around the world. With influences from Chathura's international culinary background, guests can indulge in French cuisine, Italian specialties, mouthwatering pizzas, and delectable steaks. The extensive menu caters to a variety of tastes and ensures there's something for everyone to enjoy.
Embracing Local: At Blue Grill, the emphasis is on quality and freshness. Chathura and his team strive to support local farmers and businesses by sourcing ingredients locally whenever possible. The restaurant takes pride in offering farm-fresh vegetables and building relationships with nearby farmers. They are even exploring the idea of hosting a weekly farmers market to further strengthen their ties to the local community.
Bestsellers and Specials: Blue Grill's menu boasts an array of tempting dishes, but there are a few standout favorites. Pizzas have gained popularity among patrons, with their unique flavors and high-quality ingredients. Additionally, the steaks are a top choice for those craving a hearty and flavorful meal. But Chathura's true passion lies in his pasta creations. The homemade sauces and variety of seafood, chicken, and vegetarian options make Blue Grill a pasta lover's paradise.
Events and Catering: Blue Grill is not just a restaurant; it's also a venue for special occasions and events. Whether it's a birthday celebration or a business gathering, the restaurant can accommodate parties of various sizes. The team at Blue Grill ensures that every event is handled with care, providing a memorable experience for guests.
Joining the Community: As a new business in Olds, Blue Grill is eager to connect with the local community. Chef Chathura invites residents and visitors to experience the genuine flavors and exceptional service that the restaurant offers. The team at Blue Grill is committed to continuously improving and delivering remarkable dining experiences that reflect their passion for food.
Blue Grill Restaurant, owned by Chef Chathura, stands as a testament to his culinary expertise and dedication to his craft. With its diverse menu, emphasis on local ingredients, and commitment to outstanding service, Blue Grill has quickly become a beloved dining destination in Olds. Whether you're seeking a memorable meal, hosting an event, or simply looking to indulge your taste buds, Blue Grill promises a culinary journey like no other.